Flock 2 is out of beta and ready to rock according Flock's Shawn Hardin (I hope I don't get web-spanked for
that one). It might be less than a year since Flock 1.0 came out, but it was the second day I had Flock 1 (1.6 I think?).
So, last night I download, install and start flocking around the Internet. Tonight I fire the old computer up and bang! An update for Flock is available a mere 24 hours after installation.
I can only begin describing some of Flock's cooler features with the little time left to me tonight, but here are some cool ones… Firstly Flock is touted as the The Social Web Browser and so far its living up to its name. I've got some of my social friends loading into Flock's People Sidebar which makes it easy to keep up with people on your social networks. Its also a rather cool My World page (the expectedly blurry screenshot is below) is broken into 3 nice sections, Favrotie Feeds (most newly added feeds at the top), Friend Activity (so I can keep up with everyone's status message rather easily) and Favorite Media (which thoughtfully comes preloaded with "HowToFlock on Youtube" and "Flocking on Flickr".
I must say the Youtube videos are pretty cool, not only because I've never seen a "Welcome to this browser" video, and because they are well done, but also because they are very interesting and have great info. I mean who wants to pore through pages of help files when you can watch some videos, right? There are a lot of Youtube videos there, and watch which version the video is for so you can watch out for any differences. For example the video below is the first in the list and its for Flock 1.2.
GETTING STARTED WITH FLOCK 1.2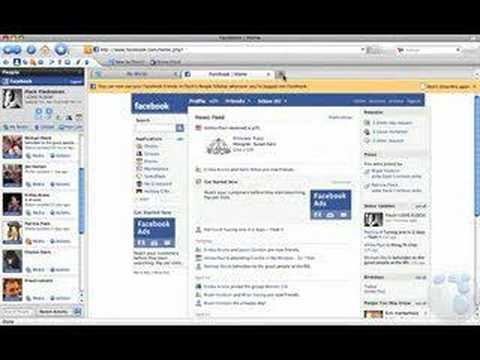 FLOCK SCREENSHOTS
Flock's My World Page
Flock Videos on Youtube
(note the video bar beneath the address bar, above the tabs).